Free infographic for investment professionals and marketers
Creating investment-grade thought-leadership content in financial services starts with having a rock-solid process.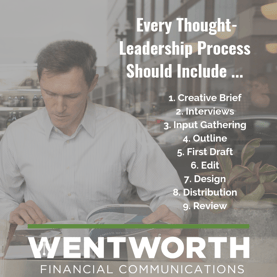 While many financial services marketers might assume that the process for creating a white paper, blog post, article, or other thought leadership is self-evident, having a clearly established, detailed process will help ensure you're able to execute on your goals in a highly efficient manner.
Here are the steps we recommend you use for your next thought-leadership project, from documenting the project's goals in a creative brief at the start of a project to the editing, review, and distribution stage.